Doll Face Persian Kittens Cattery – Est.1989
Welcome to our Doll Face Persian Kittens Cattery

Est.1989

Welcome to Doll Face Persian Kittens Cattery! See a few pictures and videos of our cattery on this page, this is where it all begins for the fur-babies!!;)
We continually raise the bar not only because we take enormous pride in cattery, love what we do and consider our cats our children but also because it's what our clients have come to expect from us.
All of our cats are raised in an immaculate environment, so their kitten foundation is extremely solid. Their longevity is our mission. 
To achieve our goal of producing superior quality Persian and Himalayan kittens we start our day with a cleaning routine that is carried out 365 days a year. All food and water bowls are emptied, bleached and refilled daily. All kitty towers are vacuumed daily and shampooed monthly and completely replaced every six months, or as needed. Nonporous toys are bleached and sanitized every single day. Hard surfaces including walls, windows, and floors are bleached and sanitized on a regular basis. Litter pans are also emptied completely, bleached and refilled daily. We do not even own a litter scoop. I think the reason our cats are so healthy is that they come from such a clean environment.
Cats like to be clean and we are neat freaks around here. The people who receive our kitties can always tell right off the bat just how hard we work and how devoted we are to our kitties the day they get them. By the end of each day, we know our cattery is what we refer to as a "HEALTHY CLEAN". Devotion is our middle name! Being around them so much also makes for very socialized kitties. 
This cattery is a: 
DNA Tested PKD Negative Cattery
Feline Leukemia (FELV) and Feline Immunodeficiency Virus (FIV) Negative Cattery
Fungus Free Cattery
Flea & Tick Free Cattery
Ear mite Free Cattery
Parasite Free Cattery
Our Bachelor Pads
Each male cat has his own personal suite, also referred to as his "bachelor pad" this is how we control breeding and ensure that only one male mates a female and not several different ones.
Doll Face Persian Kittens – Earning the repeat customer privilege for the last 30 years.
Please be advised if you call us and do not get an answer we are most likely doing our "kitty chores" (which consumes the better part of each day) leave us a message and we will return your call as our time allows. Got questions Please fill out our contact form!
---
Just some casual pictures from around the house. This window ALWAYS has a kitty or two in it! We call it the bird watching perch!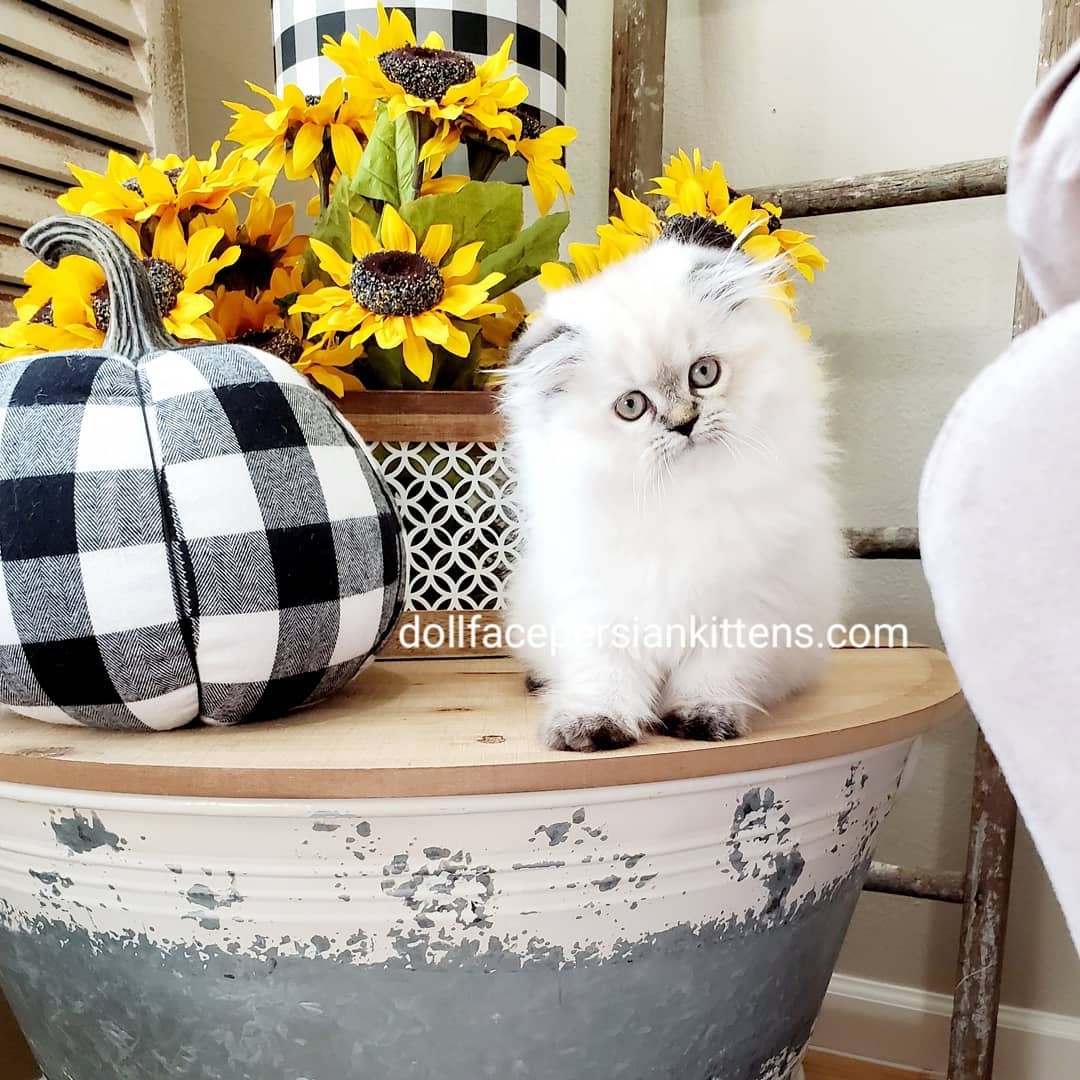 ---
Ellie and her fur-family!
---
Being that this is happening more and more on the Internet, it is important for you to know these FACTS:
1.) We do NOT buy and resell our kittens (All cats/kittens listed on this website are born, bred, and raised right here in our home)
2.) We do NOT import our kittens from China or any other county.
3.) We do NOT buy our kittens from the Mennonite community.
4.) We do NOT breed dogs of ANY TYPE. (We ARE NOT A PET STORE!!)
---
Doll Face Persian Kittens
---