Doll Face Persian Kittens Cattery – Est.1989
Welcome to our Doll Face Persian Kittens Cattery

Est.1989

Doll Face Persian Kittens Cattery
Welcome to our Doll Face Persian Kittens Cattery – Home to many celebrity cats like Mr. Bigglesworth, the Fancy Feast cat, and even messy-haired Baraby the cat.  Who knows, maybe even your kitty got their start in life here!
One of the key ingredients to a healthy, happy kitty is immaculate living conditions. Below you can take a peek inside the cattery we call home. Our cattery is our pride and joy, a place we work hard every day and strive for perfection for the benefit of not only the breed but our amazing clients and their families. We know that by building a healthy and proper foundation for all of our kittens right from the start sets the building blocks for each kitten's life after they leave our care, therefore; we set the bar high. Below is only a part of what we do daily/weekly/monthly to make sure we are raising THE HIGHEST quality kittens we possibly can. 
All food and water dishes are emptied and bleached each morning, along with every single litter pan.

All living quarters are swept & moped daily.

Cat towers are cleaned twice weekly. All toys are washed & bleached every other day.

Our kittens get their first bath at 5 weeks old and are bathed weekly until they go into their new homes, so they are used to the grooming process.

Eyes and ears are checked and cleaned regularly.

Our breeders are bathed once a month, as you will see in some of the photos.

In the warmer months breeders receive a professional "lion cut" to maintain cleanliness and comfort.

By the end of each day, we know our cattery is what we refer to as a "HEALTHY CLEAN".
Be sure to check out our video content for endless hours of fun! You'll get to see our cats and kittens play and interact! 
---
This cattery is: 
DNA Tested PKD Negative Cattery
Feline Leukemia (FELV) and Feline Immunodeficiency Virus (FIV) Negative Cattery
Fungus Free 
Flea & Tick Free 
Ear mite Free 
Parasite Free 
Check out our Doll Face Persian kittens cattery images below.
Our Bachelor Pads
Each male cat has his own personal suite, also referred to as his "bachelor pad". This is how we control breeding and ensure that only one male mates a female and not several ones.
Doll Face Persian Kittens – Earning the repeat customer privilege for the last 33 years.
---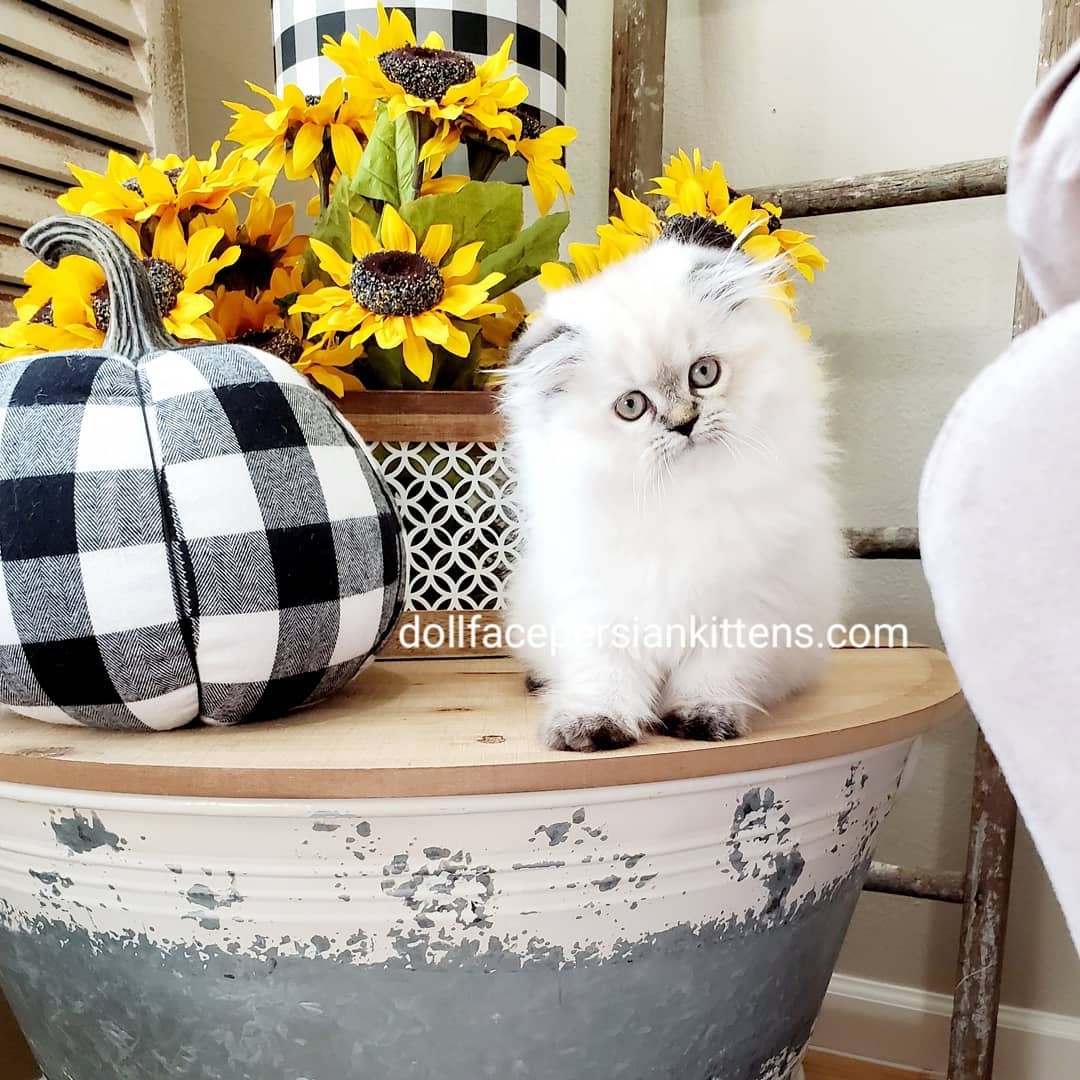 ---
Ellie and her fur-family!
---
Doll Face Persian Kittens
---